Climate change will affect the water security of developing countries. Lucinda Mileham explores their priorities as they struggle to cope.
Freshwater is a scarce resource. Only 2.5 per cent of the 1.4 billion km3 of water on Earth is freshwater fit for human consumption, and most of this is inaccessible — nearly 70 per cent is locked up in glaciers, snow and ice. Our greatest source of freshwater is the 8 million km3 of groundwater, with only 0.3 per cent of freshwater (105,000 km3) being found in rivers, streams and lakes. [1]
Discussions about freshwater availability increasingly focus on water security, which refers to people's access to enough safe and affordable water to satisfy their needs for household use, food production and livelihoods. [2]
Water insecurity can arise from physical scarcity, resulting either from climatic or geographical factors, or from unsustainable consumption or overexploitation. It can also have economic origins, with poor infrastructure or capacity preventing access to the water resources available, or occur where pollution or natural contamination renders water resources inaccessible.
Water insecurity and scarcity already affect large parts of the developing world. The past century has seen a sixfold increase in global water demand. Nearly three billion people (about 40 per cent of the global population) live in areas where demand outstrips supply. [2]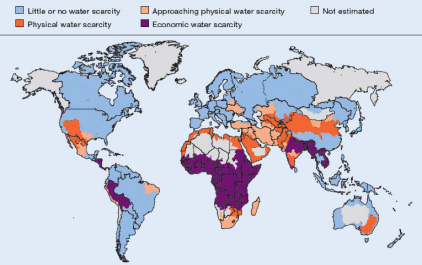 Figure 1: Areas of the world already facing water scarcity
full-size image (131kB)
Adapted from [2]
This situation is set to worsen in the coming decades as populations grow, economies develop and agriculture and industry expand.
A changing climate
An additional threat to water security comes from climate change. The world is experiencing unprecedented warming, with temperatures now approximately 0.5 degrees Celsius warmer than the 1961–90 average.
Climate change has already affected water resources across the world. It has, for example, increased the global mean sea level by 1.75 mm each year in the second half of the twentieth century, [3] caused the widespread retreat of non-polar glaciers, reducing dry-season water flows, and increased borehole and marine temperatures.
Solar energy trapped in the atmosphere by greenhouse gases drives the hydrological cycle, so any increase effectively intensifies the cycle, changing rainfall patterns and exacerbating extreme events such as droughts and floods.
The effects of climate change on water security can already be seen. Globally, the area of land classified by the IPCC as 'very dry' has more than doubled since the 1970s. [4] This has been accompanied by greater flooding in the mid-high latitudes, longer and more frequent droughts in parts of Asia and Africa, and more frequent and intense El Niño events — all of which change the balance between demand and supply of water resources.
Water security in the developing world is particularly vulnerable to the impacts of climate change, partly because their locations mean these nations feel the brunt of climate change, partly because their low incomes and poor institutional capacity limit their ability to cope with changing water supplies, and partly because they rely heavily on water-based industries, such as agriculture.
In Africa, higher temperatures, increased evaporation and lower rainfall have combined to reduce water flow by up to 40 per cent in many major rivers and caused recurrent drought in the Horn of Africa (see Figure 2). [5,6]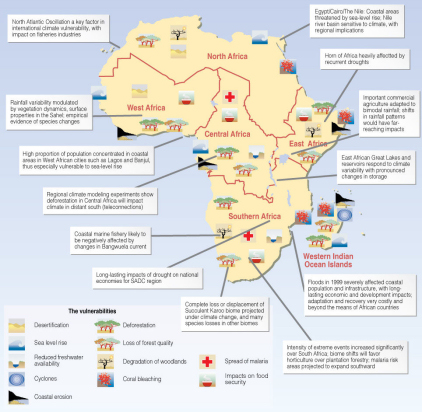 Figure 2: Climate-change vulnerabilities and impacts in Africa, many of which are driven by changing water resources
full-size image (190kB)
Anna Ballance, UNEP/GRID-Arendal, 2002
An uncertain future
It is hard to predict what the future effects of climate change will be (see Box 1).
Box 1: Uncertainty
The biggest problem in assessing the future impacts of climate change on water security is the uncertainty of predictions. This uncertainty arises from the internal variability of the climate system, uncertainty in future emissions and development scenarios, uncertainty in the way models translate these emissions into climate change, and questions over the accuracy of hydrological models. [7]
Climate modelling usually uses global circulation models (GCMs) with coarse resolution (more than 150 km²), but in some regions the uncertainty in climate simulations is so great that no clear sign of change can be given, raising serious questions over the relevance of these data to projecting changes in regional hydrology.
Regional climate models (RCMs) with finer resolution (less than 50 km²) can provide more robust input data for hydrological models. These models have improved greatly since the early 1990s, but relatively few have been developed for, or applied to, the developing world.

A lack of field data is a major obstacle to regional climate modelling
Wikimedia Commons/Babakathy
One major obstacle to regional climate modelling is a lack of the high-quality field data needed to validate such models.Reliable information on local and regional meteorological parameters, such as precipitation, evaporation and temperature, are needed for water-balance models and forecasting.
In many developing regions, field observations are extremely sparse or not available. Significant improvements in monitoring networks for validating regional climate models are urgently required to improve our understanding of the climate system and the impacts of climate change on water resources.


However, temperatures will almost certainly rise — model predictions for a range of emission scenarios suggest an increase in global temperatures of 1.1–6.4 degrees Celsius by the end of the century. [4]
And, according to the IPCC, there is abundant evidence that freshwater resources could be strongly affected by climate change (see Table 1).
Predicted change

Confidence

Impact on water security

More heatwaves over land areas

Very likely

Increased demand for irrigation and drinking water

Water quality problems, such as algal blooms

More frequent or

intense floods

Very likely

Damage to water storage infrastructure

Increased water pollution

Potential relief of water scarcity in some areas

Higher operating costs for water systems

Saltwater intrusion in coastal areas

Increase in area affected by drought

Likely

Reduced water availability

Reduced groundwater resources

Compromised water quality

Increased risk of water-borne disease

Increased demand for irrigation

More frequent or intense tropical cyclones

Likely

Damage to water storage/supply system

Power outages causing disruption to public water supply

Increased water pollution

Increased risk of water-borne disease

High sea level rise

Likely

Damage to water storage/supply system

Saltwater intrusion in coastal areas

Salinisation of groundwater and estuaries

Melting glaciers

High confidence

Seasonal shifts in stream flow

Higher risk of flash floods

Increased demand for irrigation

Higher water temperatures

High confidence

Increased water pollution

Water quality problems, such as algal blooms and reduced dissolved oxygen content

Higher operating costs for water systems

Changes in river flow and discharge

Likely

Changes in seasonal water availability

Increased risk of flash floods

Impacts on groundwater recharge

Changes in water availability for hydropower generation

Increased rainfall variability

Very likely

Changes in seasonal water availability

Changes in water storage

Increase demand for irrigation water
Table 1: Climatic changes predicted by the IPCC, and how they are expected to affect water availability, accessibility and use (compiled from data in reference [4] and [7]).
In 2008, the IPCC predicted with high confidence that the negative effects of climate change on water resources would outweigh the benefits, with the area subject to increasing water stress by the 2050s being more than double that facing decreasing water stress. [7]
Such water insecurity can have devastating effects on a country's economic prosperity and the well-being of its citizens (see Box 2).
Box 2: Effects of water insecurity on development
Water security can profoundly affect a nation's development, as water sustains life both directly through consumption and indirectly through use in agriculture and industry. This is particularly true for developing countries, where rural livelihoods are intrinsically linked to water availability and use.
Increasing water scarcity and insecurity will lead to more deaths from drought and water-borne disease, political conflict over limited resources, and loss of freshwater species. [4]
An increase in the frequency and severity of extreme weather events and natural disasters could be devastating. Developing countries already suffer more than 95 per cent of all deaths caused by natural disasters. In 2009, such disasters killed 10,655 people, affected more than 119 million others, and caused economic damage worth US$41.3 billion, predominantly in the developing world. [8]
After Hurricane Mitch in 1998, for example, flooding in Nicaragua led to a sixfold increase in the incidence of cholera. [9] In some tropical regions, cyclones and floods create breeding grounds for mosquitoes that carry malaria and dengue fever.
Flooding also affects agriculture and livestock. The flooding in East Africa associated with the 1997–98 El Niño caused catastrophic loss of livestock to Rift Valley disease and led to a billion-dollar ban by the Gulf states on trade from the area. [9]
Agriculture will be one of the hardest-hit sectors from water insecurity induced by climate change. In Africa and Asia, 85–90 per cent of freshwater is used for agriculture. A more variable water supply in these regions will damage crops, degrade land and reduce food production, causing increased malnourishment and starvation.
Saltwater intrusion in coastal groundwater supplies can also reduce food security, especially where it is exacerbated by over-extraction inland. This is already happening in China's Yangtze Delta and Vietnam's Mekong Delta, two of the world's most productive deltas. [6]


Coping with change
Faced with these changes in water quality, quantity and accessibility, how can developing countries cope?
Actions to mitigate climate change by reducing the levels of greenhouse gases in the atmosphere will be essential in the long term. But climate change is already happening, and even if mitigation efforts could immediately reduce carbon emissions to zero, water supplies would already be affected.
Adaptation strategies are sorely needed. In practice, this means focusing on more efficient and sustainable water management.

Treadle pumps tap groundwater for small-scale irrigation

Flickr/Mukul Soni

Today, many nations harness only a small proportion of their available freshwater resources. Tapping in to this supply could alleviate the water stress predicted for many developing countries, especially if accompanied by more efficient use of resources.
Fortunately, this does not necessarily require new technologies. Water managers use a range of tools to cope with variability in water supplies, from high-tech, high-cost desalination plants, which turn sea water into drinking water, to traditional, low-cost treadle pumps that tap groundwater for small-scale irrigation (see Table 2).
Strategy

How it improves water security

Some technologies available

Example

Groundwater extraction

Increases water availability in the short term but can reduce it in the long-term if aquifers are not recharged.

Overextraction can lead to decreasing water quality and accessibility.

Hand pumps; treadle pumps; wells; boreholes; open galleries;

qanats

A treadle pump is a foot-operated suction pump that can raise water from several metres below ground. Nongovernmental organisation International Development Enterprises (IDE) has revolutionised the use of treadle pumps in India. In 2009 there were 750,000 IDE treadle pumps working in the country, with a further 50,000 sold every year.

Water harvesting

Increases water availability and accessibility by providing an alternative water supply.

'Johads' are small earthen check dams that capture and conserve rainwater. From 1984 to 2000, some 3,000 johads, spread across more than 650 villages in Rajasthan, have been revived. This has increased the groundwater level by almost six metres. Five rivers that used to go dry after the monsoon have now become perennial.

Wastewater treatment and recycling

Treatment improves quality and allows for reuse, particularly in irrigation, thereby improving water availability.

Screens; settling tanks; filters; disinfection; chemical treatments; stabilisation ponds; wetlands

Tunisia's national water reuse program, launched in the 1980s, uses reclaimed water for industrial purposes, groundwater recharge, irrigation and wetlands development. By 2020, the volume of reclaimed water is expected to reach 290 million m3 each year, and the country plans to extend the area irrigated with reclaimed water up to 20,000–30,000 hectares (7–10 per cent of its irrigated area). [10]

Desalination

Improves water availability but high costs mean it may not equally improve accessibility.

Sand and other filters; reverse osmosis

A desalination plant opened in July in Madras, India, is using reverse osmosis to purify sea water and expects to supply 1,000 litres of drinking water a day for just over US$1. [11]

Water storage

Improves water availability by providing alternative sources of water during dry periods.

Dams and reservoirs; wetlands; aquifers; ponds and tanks

In Burkina Faso, thousands of small reservoirs have been built to supply water for domestic use, livestock and small-scale irrigation. Many of these have helped communities adapt to living in dry areas.

Water transfer

Increases water accessibility by moving resources from water-rich areas to regions where demand outstrips supply.

Ram pumps; 'white dragons' (long flexible pipes)

Ram pumps use the power of water flowing down through a drop of a few metres to lift a small percentage of that water to a much greater height. At the start of 2010, the AID Foundation had installed 160 ram pumps, supplying water to more than 50,000 people. Globally, there are estimated to be several thousand ram pumps in use.

Soil water conservation

Improves use of water by making it more efficient and better balancing supply and demand.

Zero-tillage

; crop residue management; crop rotation; compost; green manure; mulches; clays

Zero-tillage technology allows the farmer to plant seeds with minimal disturbance of the soil. It eliminates the need for ploughing and minimises the tillage required for planting. Between 1991 and 2008, the area under zero-tillage in Argentina increased from 300,000 to 22 million hectares, improving soil fertility, creating an estimated 200,000 farm jobs, and ensuring crop supplies, which helped keep global food prices stable. [12]

Efficient irrigation

Reduces overall water demand, improving water use.

Drip irrigation; 'organoponicos'; changes in timing of irrigation

The installation of seven efficient irrigation systems in a pilot project in Pintadas, Brazil, boosted farmers' incomes by up to US$80 per month. [13]

Farming practices

Reduces overall water demand, improving water use.

New cropping patterns; shift in crops; new crop varieties or livestock species; crop or pasture rotation

ICRISAT, in India, has

developed and released varieties

of sorghum, pearl millet, chickpea, pigeonpea and groundnut that are more drought-tolerant than existing varieties.
Table 2: Technological strategies available to improve water resource management.
Policymakers can also use legal, economic and communication strategies to improve water efficiency (see Table 3). Economic incentives such as metering can help to conserve water, and educational projects can improve awareness of the likely impacts of climate change on water supplies.
| | |
| --- | --- |
| Strategy | How it improves water security |
| Rights to water | Clarifies legal entitlement to access water resources |
| Water markets | Reallocates water to highly valued uses |
| Virtual water imports | Importing food — 'virtual water' — from water-efficient countries reduces water demand for irrigation at home |
| Water metering and pricing | Reduces water use and encourages water conservation |
| Reduce tariffs on efficient technologies | Promotes adoption of efficient water management technologies and reduces water use |
| Local watershed management | Balances demand and supply across sectors within local catchment |
| Providing information | Increases understanding of the impacts of climate change on water and enables better planning and use of water management strategies |
| Seasonal forecasting | Promotes sustainable agriculture and more efficient water use and allows better planning |
| Education | Increases understanding of the impacts of climate change on water and enables better planning and use of resources |
Table 3: Economic, legal and communication strategies to improve water security.
None of the options presented above is a panacea. Which tool to choose will depend on the local context, and adaptation strategies will require an integrated suite of tools across multiple scales (see Box 3).
Box 3: Integrated strategies for improving water security
High-cost case study: Saudi Arabia
Saudi Arabia relies exclusively on rainfall, groundwater and desalinated seawater to meet water demands that, in 2000, stood at 17,320 million cubic metres (MCM).

Saudi Arabia's desalination plants cost an estimated US$10 billion
Flickr/Waleed Alzuhair
Groundwater resources in the country are plentiful — more than 2,000 billion cubic metres — but they recharge very slowly, at just 2,763 MCM each year. Extensive extraction and ineffective management of these resources has led to falling water tables and a decrease in water quality.
In the 1990s the government realised it needed to protect and conserve water resources. It began encouraging modern and efficient irrigation systems, changing cropping subsidies, implementing water tariffs, controlling leakage, building dams and desalination plants, and recycling treated wastewater.
These measures limited the excessive use of fossil groundwater, reduced environmental degradation, encouraged water conservation and created a strong framework for coping with water stress.
But they were not cheap — the country's 35 desalinisation plants alone are estimated to have cost US$10 billion.
Low-cost case study: Ghana
In contrast, Ghana has focused on traditional low-cost practices to cope with the water insecurity induced by climate change. Today, Ghana receives 20–30 per cent less rainfall than 40 years ago. In the Offin basin, small-scale farmers have also faced more variable rainfall, up to 45 per cent less river flow, and wells drying up, causing yields to fall and crops to fail.
To cope, families have started re-using wastewater for irrigation, adopted traditional rooftop rainwater-harvesting techniques, and replaced traditional 'thirsty' crops, such as cocoa, with more drought-resistant crops, such as cassava. Local authorities also distribute affordable filters to improve water quality, and have begun fining people found clearing the vegetation alongside rivers and streams to prevent siltation and low flows.
Thousands of small reservoirs and ponds have been built to supply water for domestic use, livestock and small-scale irrigation. The government actively promotes community ownership and management of water resources, providing training and financial aid, and encouraging the use of traditional communication techniques to educate communities about water use, conservation and development.


The extent to which countries can adapt to increasing water insecurity is influenced by several factors. First, there may be a physical limit to adaptation — for example, it may be impossible to adapt where rivers dry up completely.
Second, there may be economic constraints — it may be physically possible to adapt, but it might not be affordable.
Third, there may be political limits to adaptation. Building new large dams, for example, can be politically sensitive.
Finally, the capacity of water management agencies may pose institutional limits. Many developing countries suffer from a lack of coordination between agencies and sectors, ineffective water governance, and a poor skills base.
Policy priorities
Despite the problems, some policy priorities remain clear if developing countries are to cope with water insecurity in a changing climate.
The first is the need to prioritise the management of water resources. This may seem obvious, but many countries have no long-term water policies. Policies will need to integrate all the sectors that rely on water, from agriculture and fisheries to manufacturing and municipal water use.
Improving watershed and resource management is also vital. The IPCC has advocated integrated water-resources management as a framework for adapting to climate change across socioeconomic, environmental and administrative systems.
Involving local stakeholders and promoting community-based approaches is essential to ensure that adaptation options are taken up and achieve long-lasting results. This requires a better understanding of water-based livelihoods in the developing world and their vulnerability to climate-related hazards and the impacts of water security on food and livelihood security.
Addressing gaps in our knowledge about climate change and water is also a priority. Field data are sparse and, in many cases, observational networks are shrinking. The IPCC has highlighted the "need to improve understanding and modelling of climate changes related to the hydrological cycle at scales relevant to decision-making". [7] It also says that information about the water-related impacts of climate change is inadequate.
Without further investment in data collection and knowledge building, the uncertainty associated with predicted changes will remain high, and estimates of hydrological change will remain inaccurate. Until we can better predict the change, we will be poorly equipped to plan for the future.
References
[1] UNEP Vital Water Graphics: An Overview of the State of the World's Fresh and Marine Waters (2002)
[2] Molden, D. (ed.) Water for Food, Water for Life: A Comprehensive Assessment of Water Management in Agriculture. London: Earthscan, and Colombo: International Water Management Institute (2007)
[3] Church, J. A. and White, N. J. A 20th century acceleration in global sea-level rise. Geophysical Research Letters 33 (2006)
[4] Parry. M. L. et al (eds) Contribution of Working Group II to the Fourth Assessment Report of the Intergovernmental Panel on Climate Change.Cambridge University Press (2007)
[5] Arnell, N. W. Climate change and global water resources. Global Environmental Change 9, s31 (1999)
[6] Cabot, C. Climate change and water resources
[286kB]. WaterAid (2007)
[7] Bates, B. C. et al (eds) Climate Change and Water: Technical Paper of the Intergovernmental Panel on Climate Change
[7.11MB]. IPCC Secretariat: Geneva (2008)
[8] Vos, F. et al. Annual Disaster Statistical Review 2009: The Numbers and Trends
[2.45MB]. Centre for Research on the Epidemiology of Disasters (2010)
[9] DFID The Impact of Climate Change on the Health of the Poor
[386kB] DFID Key Sheet (2004)
[10] Carriger, S. Managing the Other Side of the Water Cycle: Making Wastewater an Asset. Global Water Partnership
[335kB] (2009)
[11] Natarajan, S. Innovative India water plant opens in Madras. BBC News South Asia (2010)
[12] Trigo, E. et al. The case of zero-tillage technology in Argentina
[562kB]. IFPRI Discussion Paper 00915 (2009)
[13] Obermaier, M. et al. Adaptation to climate change in Brazil: The Pintadas pilot project and multiplication of best practice examples through dissemination and communication networks
[56kB]. Proceedings of RIO 9 World Climate Event (2009)